Making the right hiring decisions is a critical aspect of shaping your company's future, but it's also a complex and time-consuming process. Your team's primary focus is to connect with the most suitable candidates in the talent pool and seamlessly guide them through the recruitment journey.
However, as the number of resumes to review and interviews to schedule multiplies, the hiring process can become overwhelming. This is where a powerful recruiting platform comes to the rescue. In this comprehensive guide, we will explore ten of the finest enterprise recruiting tools that are designed to save valuable time, enhance the applicant experience to attract top-notch talent and provide invaluable insights into your entire recruitment workflow.
With these advanced solutions at your disposal, you can streamline your hiring process, engage with candidates more effectively, and ultimately make well-informed decisions that will shape the future success of your organization.
Let's delve into the world of cutting-edge recruitment tools that can transform your hiring strategy for the better.
What is Interview Scheduling Software?
Interview Scheduling Software is a specialized tool that automates the process of arranging interviews between recruiters and candidates. It seamlessly integrates with calendars, streamlining scheduling tasks and avoiding conflicts. Recruiters can share a link with candidates to choose from available time slots, optimizing efficiency and providing a positive candidate experience. This software serves as a reliable assistant, handling interview logistics and enabling recruiters to focus on finding the right fit for their organization. Embrace this advancement for organized, time-efficient, and successful recruitment.
How to Compare Interview Scheduling Software?
When selecting interview scheduling software, the abundance of options can be overwhelming. Here are essential factors to consider during app comparisons:
Calendar Integration: Check if the software seamlessly integrates with popular calendar platforms, like Google Calendar, Outlook, or others. This feature ensures the automatic synchronization of interview schedules, preventing conflicts and double bookings.
Candidate Self-Scheduling: Look for software that allows candidates to view available time slots and independently select a suitable interview time. This empowers candidates and simplifies the scheduling process for recruiters.
Automated Reminders: Ensure the software can send automated reminders to both recruiters and candidates. These reminders reduce no-shows and help everyone stay prepared for the interview.
Time Zone Detection: Verify if the software automatically detects and adjusts for different time zones. This ensures accurate interview scheduling, regardless of the candidate's location.
Customizable Workflows: Look for flexibility in customizing the interview scheduling workflow to align with your specific recruitment process. This ensures seamless integration of the software into your existing hiring practices.
Reporting and Analytics: Seek software that provides detailed reporting and analytics. These insights offer valuable data on interview success rates, time-to-hire metrics, and overall recruitment efficiency, enabling data-driven improvements.
Interviewer Availability Management: Check if the software allows interviewers to set their availability preferences. This feature helps recruiters align interview schedules with the team's busy periods and individual preferences.
ATS Integration: Ensure the software can integrate smoothly with your Applicant Tracking System (ATS). This facilitates seamless candidate management and transfer of interview details between systems.
Privacy and Security: Verify that the software complies with data privacy regulations and offers robust security measures to protect sensitive candidate information.
Mobile Accessibility: Consider whether the software is accessible on mobile devices. Mobile access enables recruiters and candidates to manage interview schedules conveniently while on the go.
Top 10 Appointment Scheduling Apps 2023
1) Calrik for Recruiters

Calrik stands out as an immensely valuable choice, particularly catering to recruiters in pursuit of effortless appointment scheduling. The platform's intuitive interface takes the complexity out of orchestrating meetings, making it a strategic asset for recruiters grappling with hectic timetables. This convenience which translates into effective calendar management is a cornerstone of streamlined recruitment efforts.
Whether you're an individual recruiter navigating a dynamic schedule or a team in need of synchronized coordination, Calrik offers an array of subscription options, tailored to harmonize with your distinctive requisites or the collective demands of your recruiting unit. Welcome to a realm where efficiency meets precision, propelling recruitment endeavors to unprecedented heights.
Features:
User-Friendly Interface: Streamlined meeting arrangement process with an intuitive and easy-to-navigate interface.
Efficient Calendar Management: Seamlessly manage multiple busy schedules, enhancing recruiters' ability to coordinate appointments.
Time-Saving Solution: Minimize manual coordination efforts, allowing recruiters to focus on high-value tasks.
Team Coordination: Synchronize team members' schedules for collaborative recruitment efforts.
Customizable Subscriptions: Tailor subscription plans to match individual recruiter needs or team requirements.
Automated Reminders: Ensure no meetings are missed with automated reminders for both recruiters and candidates.
Data-Driven Insights: Gain valuable insights into appointment trends, optimizing recruitment strategies over time.
Pricing:

Calrik's Meeting Scheduler is free to use with its individual plan and offers advanced and premium solutions with its Professional ($6.99/month), Team ($9.99/month), and customized Enterprise plans.
2) Calendly

Calendly facilitates the optimization of the scheduling process by allowing individuals to arrange meetings directly within the time slots marked as available on their respective calendars. The seamless integration between Greenhouse Recruiting and Calendly presents the advantage of scheduling candidate interviews directly within the Greenhouse Recruiting platform. With the information below, familiarize yourself with the software's capabilities and pricing plans.
Features:
Interview scheduling: Make it easy for candidates to self-schedule their 1:1 or group interviews.
Workflows: Automate and standardize communications with reminders, confirmation emails, and follow-ups.
Admin-manged events: Create and assign common event types across your Calendly users
Integrations: Browser add-ons and integrations to allow flexibility
Custom questions: Collect key information before the interview.
Pricing:

Calendly offers a free Basic Plan, as well as paid Essentials, Professional, and Teams plans starting at $8/seat/month to $16/seat/month. An optional Enterprise Plan is offered, which includes extra features, subject to additional charges beyond the plan purchase.
3) Doodle

Doodle simplifies group scheduling with its collaborative features, making it an excellent choice for teams and organizations. Users can easily coordinate and find the best meeting time that suits everyone's availability. Here, get acquainted with the software's functionalities and pricing options.
Features:
Customize booking pages for branding
Utilize group polls to pinpoint optimal meeting times
Effortlessly manage meeting participants
Instant virtual call links for scheduled meetings
Regulate scheduling responses, limits, and buffer times
Accessible mobile app for remote work
Pricing:

Doodle offers both a Free Plan and paid options including Pro, Team, and Enterprise Plans, with pricing starting at $6.95 and custom rates available.
4) Acuity Scheduling

Acuity Scheduling excels as a comprehensive appointment management solution, catering to diverse user needs. Its user-friendly interface, coupled with an abundance of templates and integrations, enhances productivity and organization. Take a closer look at the software's offerings and weigh the pricing plans to discover the perfect match for your scheduling needs.
Features:
Automatically creates invoices for completed appointments
Seamlessly integrates with video conferencing apps for easy access
Facilitates quicker payments with online payment integration
Enables branding customization through forms
Stay informed with mobile app notifications for confirmed bookings
Pricing:Acuity Scheduling offers subscription plans starting at $14/month and going up to $45/month, and there's a complimentary one-week trial available.
5) Square Appointments

Square Appointments provides a multifaceted scheduling platform catering to businesses of varying scales. Its comprehensive features and seamless payment integration render it an excellent choice, particularly for service-based industries. Below, you will find further details regarding the pricing plans offered by the scheduling software tool.
Features:
Simplifies resource allocation with virtual chairs, rooms, and more
Streamlines multiple service appointments in a single transaction with split tips
Seamlessly integrates with platforms like Instagram, Google, and QuickBooks
Enables setting up cancellation and no-show fees for businesses
Offers on-the-go access through a mobile app for data accessibility
Pricing:

Square Appointments presents Free, Plus, and Premium plans, featuring paid options ranging from $29 to $69.
6) Zoho Bookings

Zoho Booking Software is a comprehensive appointment scheduling and booking solution offered by Zoho Corporation. It streamlines the booking process for businesses of all sizes, allowing clients to schedule appointments based on real-time availability. Gain a better understanding of the pricing structures offered by the scheduling software tool below.
Features:
Buffer time feature allows to add a break between appointments to rest or prepare for the next meeting.
Establish a timeframe between the booking date and the appointment date.
Designated timeframe for cancellations to deter last-minute cancellations.
Indicate your absence or vacation on your schedule using the time-off feature.
Pricing:

Zoho Bookings offerings are bifurcated into mainly two plans called basic and premium which range from ₹360/month – ₹540/month.
7) Waitwhile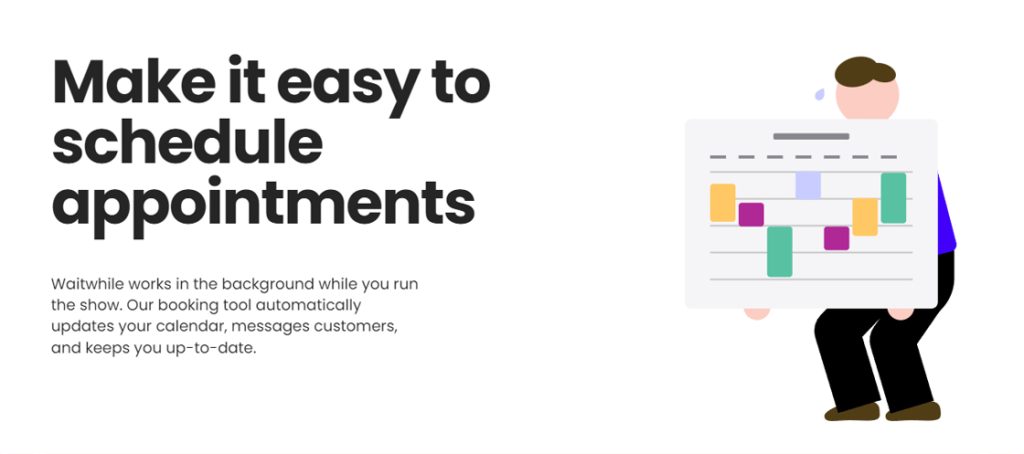 Waitwhile revolutionizes waiting experiences with its advanced queue management system. It allows businesses to streamline customer queues, enhancing customer satisfaction and operational efficiency. Below you can examine the pricing details and choose the plan that maximizes value for your scheduling needs.
Features:
Autopiloting the scheduling tasks.
Real-time update of calendar and messages.
Two-way messaging for easy rescheduling.
Actionable insights to streamline operations.
Pricing:

Waitwhile's pricing offers start at $23 per month, and adjusts according to your usage and the number of locations you operate.
8) Appointy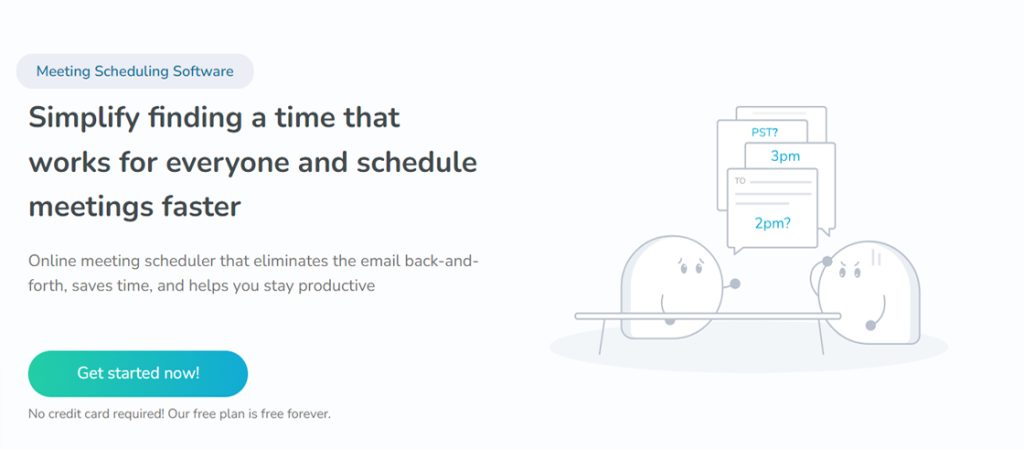 Appointy presents a feature-rich scheduling solution tailored for various industries, including healthcare, education, and professional services. Its customizable features and integration capabilities cater to specific business needs. Check out the specific pricing details of the scheduling software tool.
Features:
Schedule appointments online
Manage appointments effortlessly
Personalize scheduling rules, buffers, and availability
Access remotely through Android and iOS apps
Pricing:

Appointy provides a complimentary allowance of 100 monthly appointments, while premium plans initiate at $19.99 per month.
9) WorkHub Scheduling

WorkHub Scheduling is a top-notch tool for workforce management, offering intuitive scheduling features and real-time updates. Businesses can optimize staffing levels and ensure efficient operations. Here is a comprehensive overview of the pricing plans available for the scheduling software tool.
Features:
Automatically detects the time zone of both parties.
Ability to set preferred availability.
Block off additional time between appointments for travel.
Pricing:

Workhub's pricing model is divided into individual and team calendar categories, ranging from $2/month to $260/month, determined by the availability of premium features.
10) HelmBot

HelmBot offers a combined solution for appointment scheduling, customer relationship management, and billing. Its comprehensive features make it a good choice for small businesses and solopreneurs seeking an integrated solution. Here is a better understanding of the pricing structures offered by the scheduling software tool.
Features:
Waiver fill-out prompts for different services
Referral programs with unique discount codes
Automatic discount code attachment to accounts
Pricing:

Helmbot's pricing is designed to align with specific business's growth, spanning from $95/month to $275/month.
Wrap Up
Carefully exploring the array of scheduling apps for recruiters you will discover the one that best caters to your individual preferences or the collective goals of your team. With a plethora of options available, it's essential for recruiters to consider their specific needs and preferences before making a decision. Among the various tools, Calrik stands out as an exceptional choice for recruiters seeking a seamless and user-friendly appointment scheduling experience, that can also suit your pocket. Don't miss out on the opportunity to revolutionize your appointment scheduling!
Try Calrik today for free and discover how it can elevate your recruitment efforts, making you a true scheduling champion!
Struggling to Streamline Your Interviews?